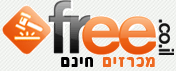 The courts have ruled that the service is legal, but it still leaves a muddled taste in my mouth. I'm talking about Free.co.il, a popular Israeli auction site that works more like the Lotto than eBay.
You can't help but be drawn in by Free.co.il's home page which promises a Sony Playstation for NIS 99 ($26), a MacBook Air for NIS 299 ($79), and even a brand new Mazda 3 for a steal at only NIS 899 ($237). Who wouldn't want to play with deals like these?
At first, it would be hard to distinguish Free.co.il from a traditional eBay-style auction site: you place your bids on items for sale and the highest bidder within the auction's time frame wins. Unlike eBay, though, you have to pay for your bids. The cost of each bid varies; for the MacBook, it's NIS 20 (about $5). It's higher for bigger ticket items.
So, let's say you bid 20 times to win that MacBook. You'll pay NIS 20 x 20 or NIS 400 ($105). Then you pay the price of the unit, plus shipping of NIS 75 ($20) – written in tiny letters on a separate page you have to click to see. Your total cost: NIS 774 ($206). That's still way less than the retail price of NIS 8,899 ($2,400) at Apple's Tel Aviv outlet, but it's not the NIS 299 that was initially advertised.
And what if you don't win? Then you lose the NIS 400 entirely. That's how Free.co.il can offer such low prices.
Still, if you place your bids right (and there is a whole section on "bidding strategies" on the site), and you're willing to stick with it and spend hours aggressively placing last minute bets, you will win eventually (hopefully for an item you actually want). So, even if you wind up spending NIS 2,000 bidding on several items before winning one that's valued at NIS 10,000, you're still getting the product at an 80% discount.
There's one other trick Free.co.il has up its digital sleeve. If two people bid the same amount, both bids are canceled. That means that the highest "unique" bid wins. You can see who's placing what bids, their initials and even where they live, but not the amount they're spending. So you never really know if your bid is being burned or not.
Free.co.il is entirely in Hebrew, but there's a thriving market of overseas competitors. Is this a good business? Investors seem to think so. One of Free.co.il's rivals, Swoopo, has raised an astonishing $14 million. Another – BigDeal – has a $4 million war chest and some Silicon Valley luminaries at the helm.
It's certainly compelling – who wouldn't want an iPhone at a tenth of the retail price – though I don't think I'd have the stomach for it (I usually chicken out and click the "Buy it Now" button on eBay). And it peeves me that Free.co.il buries those hefty shipping fees in hard-to-find small print – it makes me wonder what else are they hiding.
But if you're willing to play by the rules, and you enjoy the thrill of the game, Free.co.il could be the 21st century version of "The Price is Right." All we need now is our own Israeli version of Bob Barker.
This article originally appeared on the Israelity blog.