At the opening of equity crowdfunding platform OurCrowd's second annual investor's summit in Jerusalem last week, CEO Jon Medved told the 2,000 assembled attendees that military software maker mPrest had just raised $20 million through OurCrowd, the largest investment ever via crowdfunding and a significant Series A round for mPrest, which built the "command and control" component to Israel's Iron Dome system. mPrest will use the new round to bring its software into the burgeoning "Internet of Things" arena – to control not just missile systems but everything from the electrical utility grid to home appliances.
mPrest was just one of dozens of startups to present at the conference. The Jerusalem Post takes a look at some of the most exciting companies who braved last week's snowy weather to take to the stage.
When Israeli startup Consumer Physics demo'd at last year's OurCrowd Summit, the Apple Watch, with its tiny sensors to measure all manner of changes in the physical world, had just been announced. That made Consumer Physics' sales pitch that much easier: the company wants to put its SCiO molecular scanner into the next version of the iPhone or Apple Watch. The SCiO scanner uses light waves to analyze the chemical properties of everything from food to pharmaceuticals, then matches the results with an online database. Want to know what's in that bag of Bamba or whether a certain pill is what its manufacturer claims it to be? Now you can. CEO Dror Sharon showed off the latest SCiO scanner – it's the size of a smart phone camera.
Speaking of cameras, Core Photonics aims to vastly improve the quality of the photos you take with your smart phone, inching ever closer to much more expensive DLSR cameras. Core Photonics' technology is complex, combining "computational photography" and "magnetic reluctance actuators," but the bottom line is that the demo shown by CEO Eran Kali was so far beyond what an iPhone 6S can take today as to remind one of the difference between VHS and Blue-ray in video. Kali says we can expect to see Core Photonics integrated into phones in 2018.
Your phone is only good if you can find it. If you're prone to misplacing items, Pixie has got your covered. Pixie makes a small plastic tracking tag that you attach to your keys, your luggage, even your child. Pixie's smart phone app then guides you to the missing item using arrows, audio feedback and even an augmented reality view that superimposes where you've left your wallet onto a moving image of your living room. "Other solutions just tell you, it's on the left side of the room, good luck," Pixie's Amir Bassan-Eskenazi told the room to applause. The Pixie Point goes for $17.50 each (in packs of four), with the price dropping "to single digits" by 2017.
VocalZoom demonstated how its revolutionary noise filtering technology might work in a car. On stage with Honda, which announced its entrance into Israel's tech market at the conference, VocalZoom CEO Tal Bakish compared the remarkable difference in sound quality from a speakerphone with and without VocalZoom's voice recognition system, which uses lasers to detect vibrations from the speaker's vocal cords. Bakish says it works even while riding a motorcycle. VocalZoom should begin rolling with Honda and other car manufacturers by 2018.
Engie also has its sights set on the "connected car" of the future. Engie's software plugs into a car's diagnostic system, monitors when the car needs repairs – say, a brake replacement – and sends a message to your smart phone. The Engie app will then bring up a list of nearby mechanics, which you can click on to get quick service at a clear price. It's like Uber, but for the inside of your car. Engie could be especially useful if you're on a road trip and far from your regular auto shop. www.engie.co.il
In addition to Coca-Cola's iconic Bnei Brak bottling plant, the company also runs a hi-tech operation in Israel – an accelerator called The Bridge. One of the companies that has been through the six month program is Cimagine which allows shoppers to place a 3D picture of a piece of furniture from a Cimagine-enabled website into an "augmented reality" version of, say, your living room so you can see how it will look before you take it home. What does that have to do with Coke? As Cimagine's CEO Nir Daube demonstrated, Coke can use it to show movie theaters and restaurants how Coca-Cola vending machines and tables with Coke branded umbrellas will appear there – without having to lug the equipment itself.
Jerusalem-based serial entrepreneur Bob Rosenschein is best known for Answers.com, the company he founded and subsequently sold in 2011 for $127 million. Answers.com let users ask questions and receive answers from the crowd. Curiyo does more or less the same thing with a twist: you don't have to leave the website you're on to get the information you seek. There's no user download required; Curiyo allows users to click or tap on a word and the information pops up in an overlay window. With Curiyo being served up on 3.75 million page views a day already – USA Today is a client – Rosenschein's third startup may have the real answers.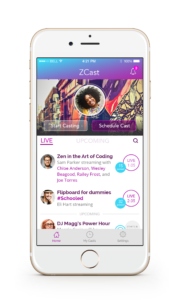 In 2012, Zula came up with a great app to consolidate all of a team's communications in one place – emails, files, video, audio. Then along came Slack, a nearly identical product that caught on like wildfire and it was "game over" for Zula, explained the company's chief marketing officer Hilel Fuld. Zula had raised $4 million – enough money to keep going – but no longer had a market. But one component of its product suite had legs enough to stand on its own. Nine months later, ZCast was born – an iPhone app for instant podcasting. More than that, when you start your live "groupcast," you can invite friends to join you, creating an on-the-fly talk radio show that anyone with a Twitter account can listen to.
If instant podcasting seems like fun, making it easier to move freight from door to ship to door sounds like the polar opposite. But in the deadly dull, Zvi Schreiber saw opportunity. His startup, Freightos, addresses a problem that anyone who has ever made aliyah has encountered: while you can book a plane ticket online in seconds, it takes an average of 91 hours to get a quote for sending a container from one country to another. That's because, when Freightos got started, some 90 percent of the systems to manage freight were handled by Excel spreadsheets and the occasional email. So in order to build what Schreiber calls the "Kayak for international freight," with transparency, speed and fixed prices, he first had to work with the freight forwarders to put software in place to automate the quotation process. The company is four years into its mission and has raised an impressive $23 million to date.
Sidebar:Â MassChallenge brings Boston accelerator to Jerusalem
In conjunction with the OurCrowd Summit last week, a new hi-tech accelerator entered the Israeli market but, unlike similar programs that are mostly based in Tel Aviv, this one will be in Jerusalem. Boston's MassChallenge takes the Y Combinator model of putting startups through a four-month boot camp of mentoring and networking and takes away the profit angle…for MassChallenge that is.
"We are the most startup friendly accelerator out there," explained founder John Harthorne during a lavish launch party at Jerusalem's First Station. "We take no equity and no percentage of revenue." The non-profit MassChallenge aims to run 100 startups through its program in the first two years and is open to anyone with a good idea – you don't even have to be from Israel. Leading companies compete for prize of NIS 1 million.
Israel's capital has seen a startup surge in recent years, with approximately 120 new startups opening every year. MassChallenge aims to double that. OurCrowd and other investors will be watching closely, looking for investment opportunities when each MassChallenge cohort graduates. If even a few of these companies stay in Jerusalem, it could have a deep impact on the city's hi-tech ecosystem.