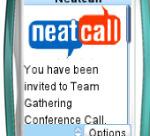 New startups have the best shot at success when they address a "pain point" – an issue that causes discomfort, annoyance or even loss of business.
Tel Aviv-based Neatcall targets just such a situation, one that will be immediately familiar to anyone who's ever tried to schedule a meeting with two or more participants: Seemingly endless phone or email tag.
Neatcall's solution is to marry mobile technology with a seemingly simple voting system. But as with any good start up, there's a lot more under the hood.
"On average, setting up a meeting with more than two participants is a process that can take between half to a whole working day," Neatcall CEO Dan Benger says.
We've all been there. A meeting initiator calls or sends out a message to the people who are required to attend. The respondents reply with their availability and the initiator then tries to find a time that works for everyone. Automated services, such as Microsoft Exchange, can speed things up, but they don't eliminate the essential "trial and error" nature of a task that often seems to stretch on forever, especially if not all the participants are sitting at their computers at the moment the message is sent.
This is how it works: The initiator selects several free time slots from his or her calendar. A message is sent out to all attendees who then vote on which slots work best for them, in their order of preference. The Neatcall system tallies up the votes and shoots back the optimal time. If all agree, Neatcall books the meeting, sends out a confirmation notice, and follows up closer to the meeting's actual time.
So far, the system is neat, so to speak, but not a major breakthrough. But Neatcall has another trick up its digital sleeve. It sends out its messages via multiple mobile formats – email, SMS, WAP, instant message or via the browser to a smart device like the iPhone or Palm Pre. Even on a basic phone, people can vote by simply responding to an SMS – "send S to select the first date, T for the second date" and so on.
Neatcall also offers location management so that scheduling requests are sent to attendees in the appropriate time zone. For iPhone users, there's an app available from the Apple App Store.
It's no surprise that Benger was the man to recognize the need for Neatcall, seeing as he previously served as VP of international marketing and business development at web and video conference call solutions company Interwise. Customers were satisfied with the quality of the conference calls, he says, but they frequently complained about how difficult it was to set up those calls. Interwise was purchased by AT&T in 2007 for $121 million.

In addition to its innovative approach to scheduling meetings, Neatcall also offers to conduct your meetings for you, with a package that comprises chat, audio and video conferencing from a single unified site.
While Neatcall's basic innovation should help to solve an existing problem, it may be difficult for the company to make headway with the rest of its package, given that the market is already saturated with conferencing companies such as Webex and GoToMeeting which lead the space.
Benger is hoping that the fact that Neatcall's service is entirely browser-based, unlike competing software which requires users to download an application, will make the difference.
Neatcall sells its service directly to companies – Benger says there are several deals in the pipeline but won't reveal their names – for up to $12 per user per month, with the price depending on whether Neatcall is handling just the scheduling or total conferencing delivery. About 200 corporate users in Israel, Europe, Australia and the US have already tried the system.
With only four employees, a few contractors and an investment of $500,000 from the Netanya-based incubator Targetech and Israel's Chief Scientist's Office, Neatcall is small, but looking to grow.
When I set up my interview with Benger, he used Neatcall to handle the scheduling. I received confirmation and reminders via both email SMS. And that was just, well (wait for it)… really neat.
I wrote this article last year for Israel21c – here's the link.