Whether you're looking for something healthy to eat or trying to plot the best way home through rush-hour traffic, there's an application for that on your iPhone or iPad. And if you look under the hood, you might just discover it's made in Israel.
With its expertise in cellular technologies, a love affair with the cell phone, and a fast national adoption rate for the iPhone – despite the fact Israelis pay some of the highest prices in the world for the privilege – it's not surprising that Israelis have plunged into development of iPhone applications.
ISRAEL21c combed through some of the best Israeli apps to come up with our top 10 blue-and-white list for the iPhone.
1. Fooducate
With a recent positive write-up in The New York Times, Fooducate is the latest darling of the Israeli iPhone app scene. And it's healthy to boot. The concept is simple: before you buy a product at the grocery store, check out what's really in it. If its bite is worse than its crunch, Fooducate will suggest an alternative that's better for your body (if not for your pocketbook).
The app uses the iPhone's built-in camera to scan a product's bar code. Using its own proprietary algorithm, Fooducate counts up the nutrients and assigns a letter grade from A to D. The app is smart enough to spot cleverly disguised additives – did you know that "autolyzed plant protein" is just another way to say MSG?
Fooducate is primarily for products manufactured in the United States, and its database isn't yet complete (the company encourages users to snap pictures of items they'd like to see covered and send them in).
2. FiddMe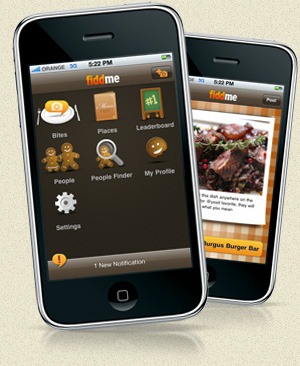 FiddMe is also a food app, but it takes a very different approach than Fooducate. Rather than aiming to educate, FiddMe wants to turn eating into a worldwide social game – a kind of FourSquare for foodies.
FiddMe allows users to take pictures of great meals they're eating (in real time) and post the snapshot and information about the restaurant to the cloud. Other FiddMe users can tap into the growing database of yummy recommendations. The service is integrated with other location-aware apps like FourSquare and Facebook. You can also post to Twitter or to the FiddMe website.
FiddMe is not competing directly with user-generated recommendation services like Yelp. Those focus on restaurants as a whole, while FiddMe drills down to the quality of the fettuccini. Not surprising from an app created by a bunch of self-described Israeli "foodies."
3. Waze
Waze has tackled a problem we've all experienced – getting stuck in traffic and not knowing the best alternative routes – and crowd-sourced it. Users automatically add information about traffic tie-ups in real time – without having to do a thing. Waze tracks where drivers are via GPS. If there are more drivers than expected in a certain stretch of road, the Waze map will turn red.
So if Highway 101 is backed up coming into San José, Waze will instantly tell you if Interstate 280 is the better bet. That's a whole lot faster than waiting for the radio to report the latest jams every 15 minutes. And it's one of the reasons the service has proved incredibly popular, with more than two million drivers signed up.
The automated aspect to Waze is particularly welcome, since texting while driving is a big no-no. But users stopped at a red light can more proactively input traffic information. And to really keep things safe, Waze turns off the keyboard when the car is in motion – neat!
Waze has other features – such as allowing drivers to build maps together, create private groups to share tips, and even play interactive social games.
Waze is free, in keeping with its 2006 roots as an open-source project called FreeMaps. The service began in Israel but is available all over the world.
4. Viber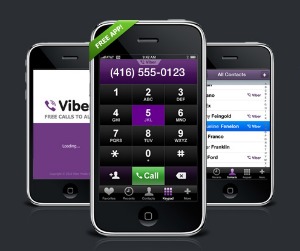 Within three days of Viber's launch in December 2010, some one million people had downloaded it. Two months later, the number is up to an overwhelming 10 million. What's all the fuss about? Viber, a free app, aims to be the Skype-killer, a voice-over-IP phone service that integrates seamlessly into your iPhone's contact list and allows you to make free calls to other Viber users anywhere in the world.
The app is drop-dead simple: Install it, and any other Viber users in your contact list show a Viber icon. Since the Viber app runs in the background (and the company claims it doesn't drain the phone's battery like Skype does), calling that contact for free is a single tap away.
Viber also doesn't require any registration (another step saved) and uses your phone number as your ID. Contrast that with Skype, where you have to sign up for a unique ID and use only the Skype app to make calls. Viber "officially" only supports the iPhone, but savvy callers claim it works on the iPad and iPod Touch as well. Android and BlackBerry versions are coming soon.
5. Fring
Fring is another made-in-Israel app that allows free phone calls. Unlike Viber, Fring piggybacks on existing phone networks like Google Talk, ICQ, Twitter, Facebook and more, acting as a universal communications center for voice, chat and even video calls. You open the Fring app and get a separate contact list; you can then call any friends on the list at no cost.
For friends not on the list, "Fring Out" calls start at one cent per minute (although that can jump to as high as 44 cents per minute for far-flung locations like Samoa and Zimbabwe).
Fring got a big boost when the iPhone 4 with its front-facing camera came out last year, making video calls a major attraction (the upcoming iPad 2 is rumored to have the same feature).
The app also has a "Fring Stream" that consolidates all your Twitter tweets and Facebook updates (plus, of course, any Fring chats and calls) in one place.
There's one service that's noticeably missing from the Fring roster: Skype. Fring used Skype's network to enable video calls for several years until December 2010, when they parted ways. Fring claims Skype blocked its service; Skype says Fring had been misusing its software and decided to pull out on its own. Either way, Fring is slightly less useful than it was six months ago.
6. Babller
Babller is a simple iPhone app that was an obvious product to be developed in multilingual, multicultural Israel. The app allows you to post status updates to Facebook, Twitter and LinkedIn in your preferred language and have it automatically translated into a variety of other lingos. The app works the other way around, too, translating posts you receive.
Babller is essentially Google Translate with built-in social networking integration. It's not likely to be around for long – as soon as Google does its own Facebook translation mash-up, Babller will be out of here.
7. My6Sense
Owning an iPhone can quickly result in serious information overload. With your email, social network updates, tweets and RSS feeds all coming at you a mile a minute, you may find yourself sifting through hundreds (if not thousands) of messages and articles every day.
My6Sense aims to reduce the clutter by learning what you're interested in and filtering the stream so that's what you see. Focusing primarily on updates via RSS, My6Sense "learns" what you like by monitoring which articles you choose and which links you forward. You may view your subscriptions by most recent posts or by My6Sense recommendations.
What's particularly cool is you don't have to do anything – no tapping buttons to give a thumbs up or down to a particular piece of content, for example. The company calls its service "digital intuition" and it seems to be on to something. My6Sense has received media accolades including a "Best of 2010" award from ReadWriteWeb.
8. Libox
Consuming media on an iPhone or iPad is perhaps as popular as actually making a call. Despite its tiny screen, users love to watch video, show off pictures and, of course, listen to music. But how do you get your media content from your desktop computer or laptop onto your phone?
Apple's answer is to synch via iTunes. But that requires plugging your mobile device into your computer. And you have to physically move files onto your phone, which means you can quickly bump up against your iPhone's memory limit.
Israeli startup Libox lets you stream your media from home. There are two parts to the app – one that goes on your computer and scans your hard drives to find media, and a second that you download to your phone, which then streams the media from your computer via your regular cell service or WiFi. Libox also allows sharing media with friends, although that might put the company in hot water with copyright holders.
One downside: the app requires that your home computer be turned on with Libox running. That may not work for people whose laptops are their primary machine.
The company's pedigree suggests that Libox will continue to innovate in future versions: The company's founder is Erez Pilosof, who also founded Walla!, the Israeli equivalent to Yahoo and still an uber-popular Hebrew language site.
9. Touchoo
Buying your toddler an iPhone or iPod Touch is not as wacky an idea as it seems with Israeli startup Touchoo's vision of creating interactive "touch" books for tykes. The company, which calls itself a publisher rather than a development house, has assembled a team of writers, illustrators, animators and programmers (all from Israel, for now) to create their touch books, and the company emphasizes that all book apps are made under the supervision of a developmental psychologist.
Featured first books include Benny the Cat and the touch-screen appropriate Thumbelina (based on the original classic from Hans Christian Andersen). Some of the books are available in multiple languages. Touching not only changes pages but triggers interactive fun (an animated character may jump out and sing).
Touchoo's concept has already been proven … 20 years ago. When the first round of interactive multimedia products was being released on CD-ROM, one of the most popular genres was animated storybooks that both entertained and taught. Touchoo has simply updated a proven concept to the 21st century, where a click of the mouse has been replaced by a tap of a finger.
10. Appsfire
Appsfire is an app that lets you find other apps. Sure, you can always go searching in the Apple App Store or visit an app review site. But Appsfire uses the power of the crowd to recommend the best apps. As an Israeli company, its roster of "VIP" experts making recommendations is mostly culled from the Israeli tech scene; that will change as the app gains traction around the world. And there are plenty of "regular" users adding their favorite apps.
There's also a separate iPad version called Appstream that, as its name suggests, has a moving stream of apps. You can tap on an app to preview it, and tap again to share a recommendation with friends or to buy the app. You can filter by just iPad apps or by free apps.
Appsfire and Appstream, by the way, are both free. Appsfire takes a cut of sales from app developers via an affiliate model.
This post originally appeared in March 2011 on the Israel21c website.