Recent changes to Facebook's news feed algorithm mean that organizations and companies developing and publishing their own original content are now receiving a significant boost on the leading social media site. Two weeks ago, Varun Kacholia and Minwen Ji, engineering and software managers at Facebook, respectively, posted in the Facebook Newsroom that "we are now paying closer attention to what makes for high quality content…what this means is that you may start to notice links to articles a little more often (particularly on mobile). Why are we doing this? Our surveys show that on average people prefer links to [these kinds of] articles…to the latest meme" about dancing cats or photos marked up with funny captions (as in the example to the left).
The bottom line: "high quality articles you or others read may show up a bit more prominently in your News Feed, and meme photos may show up a bit less prominently."
Facebook's move is not a surprise. Traffic from Facebook to news sites tripled in the past year. Facebook is being increasingly used as a news source (much as Twitter has also evolved). So why shouldn't Facebook's algorithm promote original news articles? Facebook hasn't revealed the secret formula for how it will recognize "high quality content" but the Kacholia and Ji's promise is clear: uninformative over-shared links and tired memes will be demoted.
All of this is great news for Blum Interactive Media clients that have engaged us to create original content to publish on their websites, Facebook pages, email newsletters and other social sharing services. Original content already ranked high in Google's organic listings; now Facebook is joining the party. Take a look at the home page from one of our clients, Shavei Israel: they treat their website as a mini-newspaper, publishing 2-3 original stories (which we write) every week. The result has been dramatic – on Facebook alone, Shavei Israel and its related pages now have more than 60,000 "likes" and web traffic is up as well.
There's a sidebar take away here too: trying to create "viral" material online just got harder…and easier. You can spend less time over-thinking and crazy planning what you hope will become the next mega-video hit. Instead, write the best quality content and the social networks will help you out on their own terms.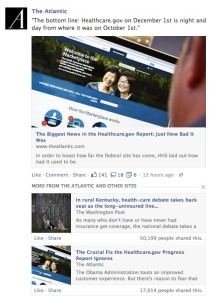 Facebook will also be showing "related articles" directly below the news feed post. Although you can't control which articles will appear, our experience using similar products on our own websites indicates that at least some of the time, these will be articles that your organization or company has published. The more content you have out there, the more likely it will appear in this new Facebook section. See the example from Facebook on the right.
If you're thinking about how to get going with your own original content strategy, keep in mind that it's not a one-time thing. To stand out on Facebook, Google – really, anywhere online – your organization or company needs a regular stream of innovative articles and multimedia material. The aim is to turn your website and social media presence into a destination; a trusted source of compelling content that make readers want to come back – to subscribe to your newsletter, to like your Facebook page, and to share and forward what they receive.
Now more than ever, you can't do this with a couple of lines and a cute picture in a blog post here or a press release there. You need to publish new material on a continuing basis. As your content appears more frequently in your followers' news feeds and in search engine results, your supporters will know who and what you are about, so that when it's time to ask for donations, or to sell a new product, they'll already be primed.